Bug X FR Insect Repellent is plant-based and safe to use on FR clothing, is non-flammable and acts as an effective deterrent against pesky insects. Our towelette offers an easy application for face and neck, while our pump spray application provides ample coverage for body and clothing.

BugX FR formula is:
Safe to use on FR clothing
Non-flammable
Naturally Derived, Plant-based Geraniol
Easy Application
Convenient

Bug X FR is the perfect answer when Fire Retardant (FR) clothing is being worn, environmental conditions prefer "All Natural" products to be used, and /or face and neck protection is needed.

It's Your Natural Based Insect Repellent Skin Care Solution.
---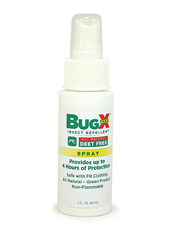 Bug X FR Spray 2oz Bottle
SKU: 12850-R
Price: $5.50  
---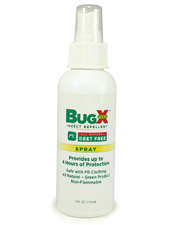 Bug X FR Spray 4oz Bottle
SKU: 12851-R
Price: $10.50
---
Bug X FR Spray 8oz Bottle
SKU: 12856-R
Price: $19.50
---
*We don't Ship Outside of the United States!