Professional Outdoor Skin Protection Kits
A refillable first aid kit that has all the basic needs for skin care while working outdoors. The outdoor kit is packaged in a Heavy Duty zipper nylon case that keeps contents clean and secure. Small enough to fit into the glove box of the work vehicle, back pack or use the convenient belt loop clip for easy access.
Professional Outdoor Skin Protection Kit with 14 items
3 ea – Sun X SPF 30 Broad Spectrum Sunscreen Pouch
1 ea – Sun X SPF 30 Lip Balm
2 ea – Bug X 30 Insect Repellent Towelette
2 ea – Ivy X Pre-Contact Barrier Towelette
2 ea – Ivy X Post-Contact Cleanser Towelette
2 ea – Burn X Lite Cooling Gel Pouch
2 ea – Sting X Pain Relief Pad
---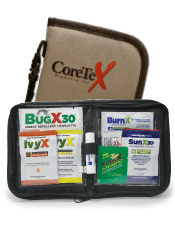 Outdoor Skin Protection Kit
SKU: 91550-R
Price: $20.00
---
*We don't Ship Outside of the United States!